Coir mats are one of the most popular floor mat options for any home or business. Coir mats for commercial properties are the ideal way to add a personal feel to your business. Coir matting has also been used outside homes for years, they're a classic choice that combines a great look and practical benefits.
What people don't think about when looking for coir matting is how they're a great investment. For example, with high-quality coir mats, you can prevent people from tracking dirt through your property and create a great first impression for your home or business at an affordable price. There are many reasons why you should invest in coir mats, let's explore some of the best reasons:
Coir Mats for Commercial Properties
Coir matting is the ideal choice for popular, growing businesses. If you have a lot of people entering and exiting your property, there is always the risk of dirt being tracked across your floor. Not to mention any dust or litter stuck on someone's shoes that makes its way into your business. That's why hotels, pubs and restaurants, and retail shops can all benefit from high-quality coir mats.
Another reason coir mats are popular for your businesses is they're ideal as heavy-duty entrance mats. Coir mats for commercial properties also offer a unique look you can adapt to fit either contemporary or classic styles. This is why they offer both practical and visual benefits. But to get the most out of your coir matting it's essential you find a specialist mat provider.
At UK Mats, we only use high-quality coconut fibres to manufacture our coir mats. Using coconut fibres creates a distinctive look that is 100% natural. We bind the coconut fibres together using a strong, thick vinyl backing material. As the fibres are coarse, they will scrape any dust, dirt or debris from people's shoes. This prevents any mess or bacteria from forming on your business's floor.
Our team understands that commercial properties need to stand out. That's why we offer a wide range of personalised coir mats made to measure for your business. Here are some of the ways coir logo mats can transform your commercial property.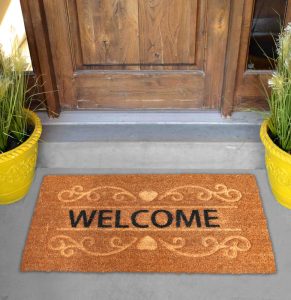 Coir Logo Mat
To make bespoke coir logo mats for your business we use an exclusive 'cut and inlay' method. This is how we can provide coir logo matting where the logo doesn't fade at all. In contrast, other companies will print your logo onto your coir mat which can cause issues.
If a company prints directly onto coir matting, the logo will wear away quickly. The reason this technique is used is to save money, despite sacrificing quality. At UK Mats, we have adopted our own cut and inlay method to provide a high-quality, durable, and personalised coir mat.
With high-quality personalised coir mats, you can add a unique entrance to your business. This will bring in new customers and create a better work environment for your employees. If your logo coir mat is at the forefront of your business, you can highlight your brand and promote your business to the community.
But coir mats are not only a great option for commercial properties…
Coir Matting for your Home
Coir mats are a classic look for any home's entrance. But that doesn't mean you can't have a contemporary design that adds a unique look to your house. Any domestic property can benefit from having a standard coir mat at its entrance.
Our coir mats are made from 100% natural materials that are durable and offer a barrier against outside dirt. Standard coir mats protect your home from guests tracking dirt inside your home, but this doesn't mean they need to be cleaned regularly. Because coir mats are durable, mothproof, rot and fungi-resistant they need little maintenance.
Why should you choose a coir mat? If you're looking for an affordable entrance mat for your home, coir mats are the ideal option. You don't have to sacrifice quality or choose a plain design. Any business will also benefit from coir matting, both for their unique look and cleaning abilities. Thank you for reading this month's blog on why you should invest in coir matting for your home or business. To find the right coir mat for you, get in touch with our team today.  Visit our contact page and fill out an enquiry form with any questions or give us a call on 01494 880066. Our email is sales@ukmats.co.uk.