Whether you are a large business or just at home with the family, as you complete your spring cleaning list you will reach the part where it comes to cleaning entrance mats. Some people may not be aware of the best way to clean their mats, and they may also not be aware of the importance of a clean entrance mat. In this article, we will be explaining why it is such an important task and looking at the best ways to go about getting it done!
If you begin to think about how much foot traffic crosses over your entrance mat regularly, it is not surprising to learn that it attracts a lot of dust, debris and grit! So it is important to keep it clean as to avoid exposing all of that to others employees, friends or family.
What's The Best Way To Clean My Entrance Mat? 
The Best way to clean your entrance mat (or any mat) is to contact the experts, like us here at UK Mats. We have a team of highly trained professionals ready to make sure every mat you own will come back to you looking brand new. However, if you wish to attempt this by yourself then we are here to share a few tips. 
If you have a small, washable mat, then you should be okay to give it a spin in the washing machine-but check its wash care instructions carefully first! Giving the mat a good hose and dry is also often an effective cleaning method. If this works for you it can be a quick and reasonable method. 
Another method that will suit some is to use a carpet cleaner, another good way to deep clean your entrance mat. Firstly, be sure that the product you have selected will not cause any damage to your mat. If you are a business with premises there is a good chance you may have something suitable in your cleaning cupboard. A benefit of this is that when it is applied it can find its way into each nook and cranny of your mat, helping to extract dirt effectively. 
If you have a rubber mat, then you could also try a damp cloth or even a damp mop. Just wipe your cloth or map over the mat, applying reasonable pressure.
When cleaning entrance mats, you could always use a vacuum. A wet and dry vacuum can be considered, however, this would apply more for businesses and organisations that have that kind of industrialised equipment. These types of vacuums have a powerful motor that can pick up and collect the majority of dirt and help release and suck up any trapped debris. If you do not have access to such a vacuum, a regular household vacuum could still be a big help. Try to clean with it at regular intervals throughout the week and it should help prevent too much build-up of grime.
Finally, shake it out! Give your mat a good shake! Again, this is most effective with daily practice. Take your mat away from where it sits and begin shaking, a lot of the dirt and dust that has been accumulating should fall off with ease.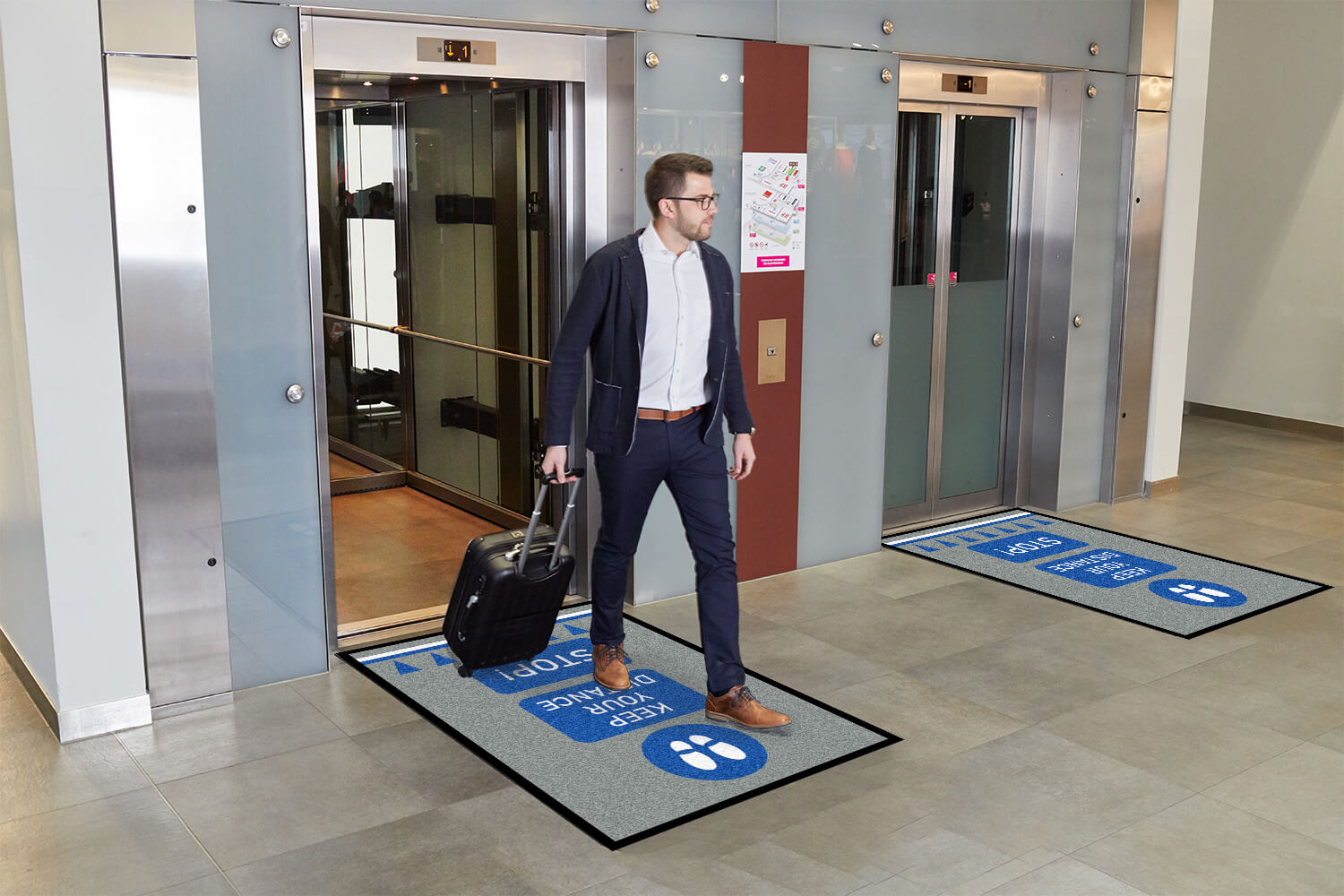 Disease specialists have voiced concerns that Covid-19 can survive on the soles of our shoes for as long as five days. Shoes used in busy, crowded places like on public transport or in supermarkets being the most likely to carry the virus. The virus would then be carried from the soles of our shoes to the entrance mats and floor on every visit. The main way that this can be controlled is by asking people to change the shoes they are wearing before entering, it is not easy to get people to change shoes when entering your business though. You can minimise the spread and contamination by using a mat washing service. Here at UK Mats, we wash 20,000 mats a week in detergent and hot water at 60 degrees to ensure the mat is fully clean and germ-free. Please don't hesitate to contact us today for your mat washing service.  
We have run over a handful of different ways to clean an entrance mat, certain methods will work in certain situations. Right now, during the current pandemic, we would always advise against 'DIY' cleaning & advise that you should contact us or phone us and ask us about our mat washing service. We will make sure you get a professional service at the highest standard.